Eat Well Wednesday

Do you have a hard time trying to get out the door on time and have a healthy breakfast?
Most of us head out the door without breakfast, leaving us only to raid the snack machine at work or sneak a doughnut from the break room.
Good news!
You can prep this breakfast before you go to bed and
it is waiting for you in the morning.
How awesome is that?!
Let me introduce you to endless delicious possibilities with…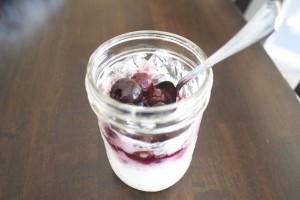 Overnight Oats are quick and easy to prepare, bursting with nutrition, and so yummy!
You can  give this breakfast a whole new taste just by adding your favorite fruit, add nuts, seeds, and dried fruit, such as raisins.  Say ADIOS to boring breakfasts!!
The base always stays the same:
1/2 Cup rolled oats
1/2 Cup greek yogurt
1/2 Cup almond milk (or milk of your choice)
1 Tablespoon of Chia seeds (helps with the creaminess)
From there you can add your favorite fruit, nuts, seeds, raisins etc.  I also like to top mine off with a spoon of Almond Butter for a nice dose of healthy fats.
So, there you have it.  A well-balanced breakfast that you can grab and go.  No excuses now 😉
Be Well!
————————————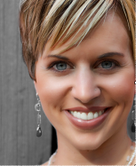 Jill Tarpey is leading us Wednesday by Wednesday into making better food choices and being more healthful. Tune in every Wednesday to get some great recipes and advice from someone who really knows health. In an effort to fuel her passion to serve as well has enhance the lives of others through their nutritional choices, she started Eat Well SA(San Antonio). Her vision is to educate you on how to incorporate a healthy array of foods into your life. Eat Well is not a diet, nor does it embrace any one specific dietary agenda. She also offers customized programs that are educational and teach you the tools you need to maintain healthy, well-balanced eating for your busy lives.
Eat Well Wednesday
Uncategorized