denouement
Lately I've been reluctant to write my thoughts.  I think it's because I'm coming to the end of this stage of the process.  I do feel a sense of closure, or completion.  I've played with concept, music, creating movement, manipulating movement, filming, costumes…  I've come as far as I can in this part of the process without having other bodies to work with.  Have I "made" the piece? No.  Not a chance.  I don't want to hinder the process by creating the piece without people.  My favorite part of creating work is to see what happens when dancers have the material.  "Mistakes" in rehearsal are so valuable because they break down the limitations of my imagination.  And I love, love, love that.
The last master class I taught was thrilling because I was able to work the newest of the three phrases I've been developing.  I gave the material, and asked the dancers to take it and play with:
1. Stopping and starting the energy– coming to complete stops and resuming the movement or slowing down slightly and resuming the movement, or anything in between
2. Interjecting movement into those "stops" or "slowdowns" in #1.  This could just be interjecting a variation of the movement (changing level, facing, tempo etc.), inserting other movement from the phrase, or inserting something completely new.
What I found was that they didn't see the phrase as linear.  There wasn't a "start" and a "finish."  Once they played with the phrase, it bled into itself and increased in manipulation.  Lovely, purely lovely.  It was then that I realized I was finished creating new movement.  I have enough for this piece–and probably 2 more.  I didn't feel the pressure to create more just because I have more time.  I think it would actually be detrimental.  So the next day instead of making new material, I sank into it.  I danced it, fully.  Victory.  Creating dynamics and smoothing transitions.  Committing to a base phrase–knowing it will (and must!) be changed further in variations, but that it is full as it is.
This painting by Ryan Russell is in the studio space.  I've meditated upon it quite a bit.  And I think it is particularly pertinent in this post.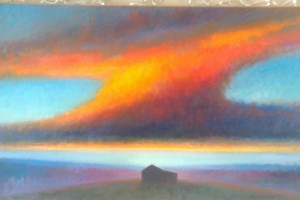 Uncategorized