Company Update
Hi Framers!  Lydia here.  Hasn't our wonderful new Development Assistant, Lena Silva been doing a fabulous job on the blog?  We're also really excited that Technology Director Jonathon Hance brought the blog onto our website, so it's all nice and neat, and easy to cruise the site.  Have you seen our videos?  Checked out our beautiful artists?  Mosey over.  Later.
Company update: 
We had a fabulous run of To the Brim, a collaboration with Charles Halka.  It premiered at the JCC Dance Month Choreographers X6.  We will do it again, I keep getting requests!  Thanks for your enthusiasm, we love the piece too.
I am currently in the middle of editing our new film Quiver.  Maybe you've seen some photos of it on our facebook page?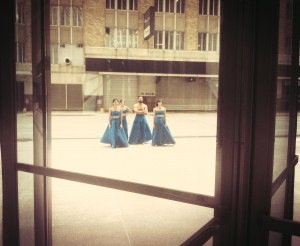 Our own Ashley Horn (and a Houston Top 100 Creative) made these beautiful long blue skirts.  We will premiere this beauty in April at the Frame Dance Soiree.  That's right folks, you heard it here first.  We're having a par-tay.  More details coming so very soon.  Mark Hirsch is composing the music, and we're thrilled to bring him into the Frame Dance madness.
And thirdly, I am in the midst of listening to our 2013 Composition Winner's music.  We've talked about Rob McClure before.  This guy on the right.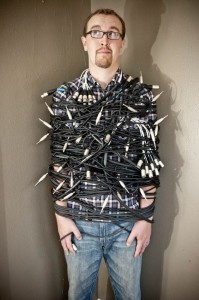 He wrote some exciting music, and I am really challenged by the rhythm and energy of it.  And that's what I look for in music– something that challenges me.  First, I listen for something the draws me in, and holds me in.  You know that feeling when you are listening to something on the radio in the car, and you get so lost in it your body goes into autopilot and you end up driving to some place in your usual routine?  Like work or the grocery store? You just end up there.  Like the music consumes you and your flesh just goes into autopilot. And second, it has to scare me a little.  Not literally.  But choreographically.  I am pulled in, consumed, and then utterly unsettled on what I will create.   That's how I pick music.  Micah Clark, Charles Halka and this year's Rob McClure all composed music that did that to me.  That piece will premiere in our spring concert on June 28-29.  The show will be called Ecouter.  I'm not sure how to make an accent over the "e" on this computer, so please forgive me, dear Francophone Framer.
In summary, stay tuned and come to our Frame Dance Soiree to see Quiver, and mark your calendars for Ecouter coming June 28-29.
To Art!
Performances/Screenings