Announcing Framed in Five
Frame Dance casts a vision for the next five years with steel string guitars, percussion toys, and sophisticated dancing
Houston, TX—February 5, 2015. Framed in Five is a celebration of Frame Dance Productions and the vibrant "Framer" community they have grown over their first five years. The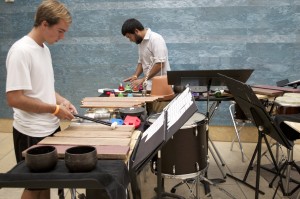 program will feature new dance and live music ranging from surprising and intricate percussion, to a curious and whimsical guitar duo, to an emotive string quartet that "depicts the wind and rainfall during a rain shower."
Framed in Five runs May 1 & 2, 2015 in the Margaret Alkek Williams Dance Lab at The Houston Ballet Center for Dance. This vibrant program will feature winners from the Frame Dance Music Competition: composers Joel Love (Austin), Gabriel José Bolaños (California), and Robert Honstein (Boston). Baylor Percussion Ensemble, a steel string guitar duo, and string quartet will perform with Frame Dance in three new pieces.
Frame Dance's newest programs: Little Framers Children's Ensemble and the Multi-Generation Ensemble will join the cast for a special premiere, Lightscape. Lydia Hance has choreographed a dance that integrates the professional dance company, the children's ensemble, and adults of different ages from around Houston revealing the depth of age, the vitality of youth, and the resonance of vulnerability.
Artistic Director Lydia Hance will reveal the vision for Frame Dance in the next five years with an exciting new video.
Margaret Alkek Williams Dance Lab
Houston Ballet Center for Dance
601 Preston St.
Houston TX 77002
May 1 at 7:30pm, May 2 at 2pm and 7:30pm
On street, lot, and garage parking
Cost: $11-22, family rates and group ticketing available
Framedance.org/boxoffice for tickets.  Tickets available starting Monday, February 9, 2015.
Join the Framer tribe and find out more: framedance.org
(above photos by Lynn Lane, Lydia Hance, and Jonathon Hance)
Get updates, pictures and videos on Facebook.
About the Choreographer and Composers: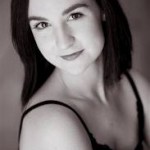 Dubbed Houston's "queen of curious locations," Lydia Hance is the Executive and Artistic Director of Frame Dance Productions. She has been named an Emerging Leader by Dance/USA and has been leading Frame Dance in performances from the Galveston pier onto the METRO light rail, into the backs of U Haul trucks, and into museums, stages, and warehouses throughout Texas for the past five years. A champion of new music composers, her work deepens interdisciplinary collaborations and investigates the placement of dance in our lives. She is the former Education Director of Hope Stone Inc., and has recently launched the children's ensemble Little Framers. She is a choreographer, curator, filmmaker, educator, and dance writer originally from the California Bay Area. She holds degrees in Dance Performance and English Literature from SMU and trained at the Taylor School, Graham School, Tisch School of the Arts, Limon Institute and SMU.
Gabriel José Bolaños Chamorro is a Nicaraguan-American composer and guitarist. He is pursuing his PhD at UC Davis. He received a bachelor's

degree from Columbia University in 2007 where he studied composition with Fabien Lévy and Sebastian Currier, and orchestration with Tristan Murail. He has also worked as a freelance musician in New Haven, CT, and was a professor of theory, analysis and guitar at the Casa de los 3mundos music academy in Granada, Nicaragua. His work draws upon a variety of interests including linguistics, spectralism and the physical properties of sound, psychoacoustics and geology.
Joel Love's music has been performed by The Aura Contemporary Music Ensemble, The California State University Los Angeles Wind Ensemble, Da Camera of Houston's Young Artists, The Boston New Music Initiative, the Ohio State University Wind Symphony, the Texas
A&M University Symphonic Winds, the Lamar University A Capella Choir and Wind Ensemble, the University of Texas Wind Symphony, and exhibited at many art galleries throughout the United States. Joel's first work for wind ensemble, Aurora Borealis, was recently selected for performance at the 2013 SCI National Conference. In a recent review of 2013 SXSW events, Capital Public Radio's Nick Brunner commented that "The Peace of Wild Things" was a "gorgeous piece of music, wafting along into the ether." He recently finished is doctorate from the University of Texas Austin.
Celebrated for his "roiling, insistent orchestral figuration" (New York Times) and "glittery, percussive pieces" (Toronto Globe and Mail), composer Robert Honstein is a composer of orchestral, chamber, and vocal music. Robert has received awards, grants and recognition from Carnegie Hall, Copland House, the New York Youth Symphony, ASCAP, SCI, the
Minnesota Orchestra Composer Institute, the Albany Symphony Orchestra, the Young New Yorkers Chorus, the Lake George Music Festival, the Boston New Music Initiative, the Ithaca College Chamber Orchestra, and New Music USA. Robert co-founded Fast Forward Austin, an annual marathon new music festival in Austin, TX. Described as "the first ever classical music event in Austin to make its own beer koozies" (Austin American Statesmen), Fast Forward Austin features local and national, cutting-edge artists in a "welcomingly relaxed venue… [that] tapped into what is so great about the Austin vibe: a community of people who are artistically curious, non- doctrinaire, and unpretentious" (NewMusicBox).
Composers
Links We Like
Performances/Screenings