American Flora
We are so stoked about our fabulous clothes for the Photobooth series (happening again this Friday at 8pm!) that are sponsored by American Flora.  They are an amazing eco-friendly dance and yoga wear company that is now expanding into even more exciting products.  We at Frame Central feel super special, because these products aren't even up for the public to see yet.  However, if you are interested, contact mary@americanflora.com to get your American Flora before they sell out.
Here's the announcement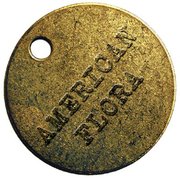 :
AMERICAN FLORA introduces its latest additions!
Since our launch in June 2011, The Tote Bag has been flying off the shelves!
Originally designed with dancers and yogis in mind, the Tote has taken on a personality and purpose, ranging from beach bag to farmers market tote and everything in between. It's traveled all over the world!
Our continued enthusiasm to design fun and useful bags has brought us to another place. We're now offering a Mini Tote, perfect to use as a purse to carry your cell phone, sunglasses and wallet. We'll be showing the black Mini Tote with black strapping and some surprise colors.
The Cosmetic Bag offers the latest in style and function. An oversized zipper allows the bag to open with ease. Our signature grommet continues to be a show stopper!
All three bags are made from re-purposed billboard tarps, with a black exterior and a unique graphic interior.
Lastly, our excitement turns to our new bath and body product. American Flora's Coconut & Sugar is a body scrub made with only organic ingredients. We've kept it simple. It's irresistible virgin coconut oil keeps people asking. "Can I eat this?"
Performances/Screenings