MFA Monday: Lauren Ashlee Small
When Grad School Becomes Worth It
Part 2
Finding my way out of the airport, hailing a cab, riding into the city to the serendipitous sound of Alicia Keys singing Empire State of Mind, and finding my way to my new home created adventure enough! It was here that I poured everything into my dancing. I tried new styles, met an array of crazy, talented people and movers, and explored my own craft of choreography. I began to want more. Spurred on by the sights and sounds of the city I entered my work into dance festival after festival and found the choreography well-received. I auditioned for a dance company, a cruise ship, and a few musical tours for the experience, interned and understudied with a dance company and performed with another all while completing the program at Ailey and receiving a scholarship for my next two semesters of training.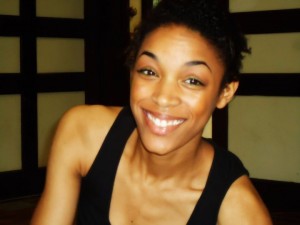 In New York I learned the value of hard work. With mandatory classes all morning and afternoon there wasn't much time left for traditional work. Several days a week after class I booked it from Midtown to the Upper East Side to babysit the cutest kid in the world across from Central Park. I worked at Saks 5th Avenue as often as I could and picked up gigs here and there including weekend work for the 2011 New York Bridal Expo. I learned determination, commitment, and the power of resolve by pushing past obstacles in my technique, choreography, and performance, but more importantly in life. Dancenyc.org became my go-to website for audition postings and choreographic opportunities, and I used the small stage in the basement of the building where I lived to hold rehearsals for my various projects.
Between the load of classes, rehearsing, and walking everywhere I possibly could, I built up endurance and conditioned my muscles and mind in a new way. The struggle to walk up and down the busy streets of Manhattan and not get trampled was lesson enough in itself.
Everyone has a place to be, a strategy, and a story. It was this experience of walking that gave room for a lot of reflection and examination of my life and the lives of the people around me. As a result, I became more decisive. I figured out what I wanted, where I was going, and what worked for me. Most importantly, I soon realized that I wanted and needed to create more frequently and that I needed to feel respected and important in any environment that I was working in.
These two revelations proved vital to my next move.
Stay tuned for Part 3, coming next Monday.
---
Lauren Ashlee Small is originally from Springfield, IL. Her training began at Springfield Dance and the Springfield Ballet Company and continued in college where she completed a Bachelor of Fine Arts in Dance at Belhaven University. Lauren went on to study in The Ailey School's professional division as a recipient of The Oprah Winfrey Foundation Scholarship and to perform with Amalgamate Dance Company and Dance Into Deliverance. Her choreography has been featured at The Ailey School, Belhaven University, American College Dance Festival, Undertoe Dance Festival at the 92nd Street Y, the New York Jazz Choreography Project, and in Amalgamate's 7th Annual Artist Series. Lauren has interned with Free Arts of Arizona and Amalgamate Dance Company and was a guest artist at the 2012 Teen Arts Performance Camp in Washington, DC and Emmanuel Ballet Academy's 2014 summer intensive in Juarez, Mexico.
MFA Mondays