Event Phone: 832-781-0808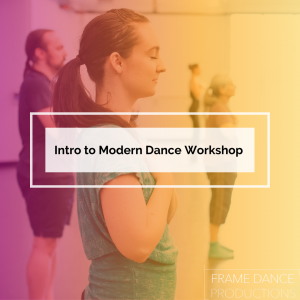 12/07/2019 and 12/14/2019
11:00am – 12:15pm Taught by Lydia Hance
Creative, safe, and joyful, this class is designed for students who are new to modern dance. The focus is on anatomically safe technique for every body and ability, and on improvisational skills for the individual and the group. The workshop includes Bartenieff Fundamentals, working with breath and fundamental movement patterns – core to distal, head to tail, top to bottom, homo-lateral, contra-lateral – which support freedom and ease in physical expression.  The class introduces embodiment practices and Body Mind Centering (BMC) principles of energy – yielding, pushing, reaching, grasping, and pulling – that are the support and motivation for all movement. With these tools, dancers new and experienced explore and express themselves creatively, supported and celebrated by Frame Dance. This workshop is for ages 10 – 99.
.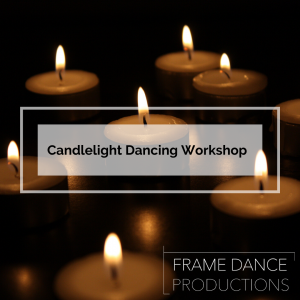 12/08/2019 7-8:30pm Taught by Jhon Stronks
12/15/2019 7-8:30pm Taught by Lydia Hance
The entire class will be done by candlelight. This will be a time to reflect and align body, heart, and mind to be most present and joyful for the week ahead. Beginners welcome. If you have a body, you can dance. Please make plans to join us; we look forward to sharing this special workshop with you. This Workshop is for ages 10 – 99.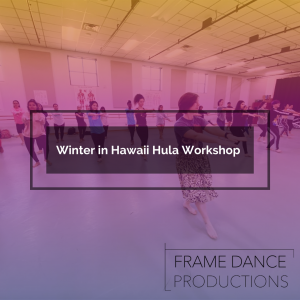 12/15/2019 11:30am – 1:00pm Taught by Jamie Williams
Students will be led through an authentic Hula class learning basic steps, hip movements, and hand gestures.  Students will also learn philosophy, traditions, and history of the Hawai'ian culture. Students will dance and enjoy the relaxed spirit of Aloha. This workshop is for ages 10 – 99.
Event Phone: 832-781-0808
Through enchanting humor and comforting authenticity, Frame Dance explores real stories, feelings, and battles of social anxiety in their latest creation Oh, I have to wash my hair, an evening-length performance for ten women on January 24 at the MATCH. This new work is a collaboration with singer/songwriter Alli Villines, cellist Patrick Moore, and designer Ashley Horn. An ode to those with a fear of judgement and making eye contact, Frame Dance invites you to come and enjoy just as you are.
Oh, I have to wash my hair features new music by Frame Dance composers including a surprising and engulfing electronic piece by Jake Sandridge (Houston), a highly restrained and delicately suspenseful piano piece by Paul Kerekes (New York), and a heavenly and shadowy piece for cello and playback by Hannah Selin (New York). Alli Villines, Houston's own "ukulalli" is crafting and performing music with Patrick Moore. The composers will be present for the performance.
In its endeavor to expose the creative process to our audiences, Frame Dance will be offering tickets to the dress rehearsal on January 23 in addition to the performance on January 24. This is a great time to bring children and get behind the scenes.
A special thank you to Turbie Twist, LP for sponsoring this event.