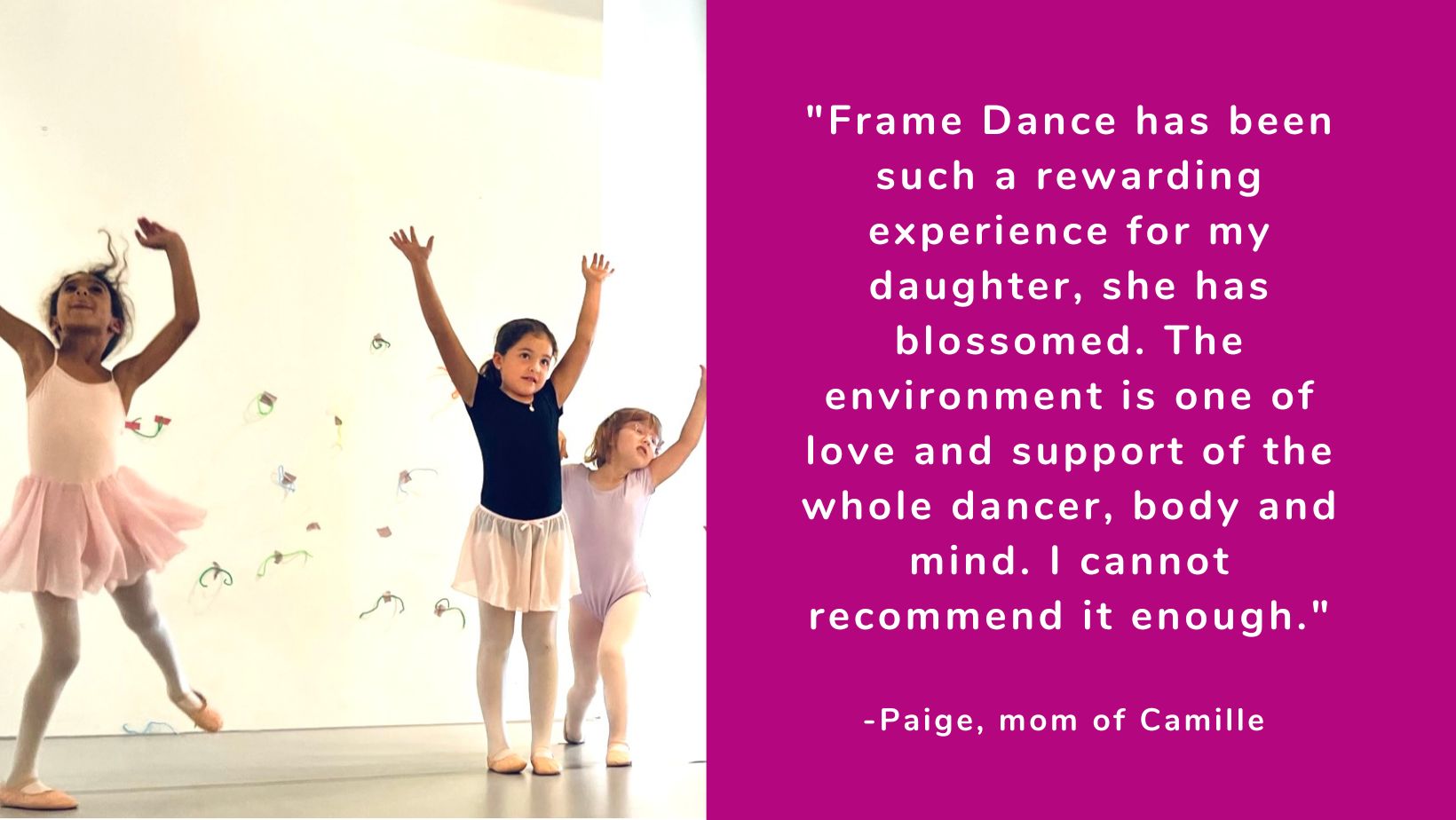 Welcome to Frame Dance!
As dancers in the Frame Dance Youth Program, your child can expect to: 
Have joyful dance experiences
Receive positive attention during class, both individually and as part of a creative ensemble
Learn to move safely in a safe environment
Be acknowledged and valued for their unique creative contributions and abilities
Frame Dance Studio Best Practices
Be Safe. This means: 
Our bodies are in control

 

Our bodies do not touch other bodies without permission

 

We move carefully through space

 

We do not touch studio materials unless instructed to by the teacher

 
Be Curious, Persistent, and Brave 
Be willing to try everything

 

Your version will look different from other versions

As you keep trying, your version will change

 
Practice Noticing 
Notice how your body learns

 

Notice what other dancers are doing

 

Notice the music

 
Share Your Thoughtful Ideas, Respectfully 
Share your ideas when it is sharing time

 

Make sure everyone's ideas are heard

 

Practice saving your ideas on paper or video if you don't get to develop them in class

 
Practice Gratitude. Say thank you for the things that help you:  
At the end of each class, dancers will

 

Thank the teacher as an ensemble

It is also good to

 

Thank your ensemble for dancing with you

 

Thank your body for doing amazing work

 

Thank your family for being your best helpers

 
Frame Dance Studio Etiquette and Policies
 

You can help us provide a nurturing, safe and creative environment in our lobby, studio, and classroom spaces, by following these studio policies:

DRESS CODE 

Wearing proper attire for class helps both the student and the teacher do their best work. Each class has a required uniform that is indicated upon registration. We expect dancers to wear the uniform in every class. No dangly jewelry, no additional skirts, no costumes, hair must be tidy and secure, and in a bun for girls in ballet 1 and 2 and in a ponytail for modern dance and a ponytail or bun for primary/kinder ballet classes. Short hair can be secured out of the eyes by bobby pins or clips. No street shoes on the dance floor, no dancing in tights without ballet shoes (this is not safe).  

 

TIMLINESS 

It is crucial that students are on time for class. This sets them up for their best possible work and also ensures that their bodies are properly warmed up. If a student arrives late, they must get permission from the instructor to join class. Otherwise, the student may be asked to observe class. 

 

PICK UP/ DROP OFF 

You are not required to wait in our studio during class, but you may. Parking is available in front of the studio in D, E, and visitor spaces. You may also park along the south side of Bartlett Street beginning in front of Bartlett Lofts and heading towards Shepherd. If you would like to drop your dancers off and pick up after class, please contact Carolina.Vennie@framedance.org and we can put you on a pickup/drop off plan. Late pick-ups will be charged $15/incident. We have a five-minute grace period. 

 

RECITAL 

Creating choreography is a big part of what we do at Frame Dance. The opportunity to perform in the recital is not required, but it is highly encouraged. Attendance is crucial to the work of the ensemble in adequately preparing for performance and giving your child the best experience. Students who miss more than 3 classes in the Spring semester and/or miss dress rehearsals will not be allowed to perform in the recital. It is also important to read emails from the studio regarding recital fees and costumes and how to buy tickets. 

REFUNDS

Frame Dance has a strict no refund policy. Tuition for classes is non-refundable and Frame Dance is not responsible for any scheduling conflicts or missed classes. If a class is cancelled by Frame Dance, you will be contacted by our staff regarding your options for make-up classes in a comparable class that may be offered. If for any reason a class must change format/structure (such as shifting an in-person class to an online class) no refunds or credits will be given.
Additional Considerations
Jewelry must be removed before class. Wristwatches, necklaces, large rings on ears or fingers, and bracelets on wrists or ankles are a potential hazard should they catch on clothing, hair, or other dancers. Small, non-dangling earrings are allowed.
Jeans are not allowed in dance class.

 

We require each participant to complete a liability waiver before entering the studio.

 

Please do not bring food, drinks, or chewing gum into the dance studio. Water is allowed, spill-proof water bottles are recommended for all students in all classes.
For your child's safety, unattended children are not permitted in the dance studio without a teacher. 

 

Please do not wear street shoes on the dance floor. We recommend you dance barefoot as socks can be slippery.

 

No photography is permitted during class. Teachers and administrators may take photos and will be happy to share them with you after class.
It is the family's/student's responsibility to register for make-up classes. Make-ups must occur during the same semester in which a class is missed. Please plan-ahead for vacations and other activities.
In the event of inclement weather, please do not hesitate to email us with any questions or concerns. Weather cancellations will be shared on our social media platforms. If you provided your email address at registration, please watch for correspondence; we will send out notices as quickly as possible.